support onstage dance company!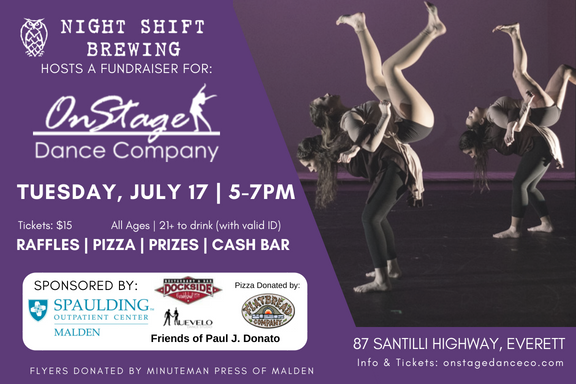 ---
---
Without the gracious support of our community, OnStage would not be able to create, perform, teach, invite and inspire! Your help allows us to provide affordable performance opportunities, open classes and workshops, residency programs, in-studio showcases, special events and more benefits to our local arts community. We are a 100% volunteer-run organization and all donations go directly towards funding our programs.
Other ways you can help:
Donate items, products, or services to raffle off at our Fundraiser Events.
Attend our Fundraising Events, workshops and special events.
Purchase an ad in our performance program
Buy tickets to our upcoming performance
Hire us to perform at your event!
Connect with us and share our content on social media

Facebook @onstagedanceco
Twitter @onstageboston
Instagram @onstagedanceco
Please direct any inquiries to info
@onstagedanceco.com
.
What's in it for you?
In addition to our members, we reach hundreds of people at our fundraising events and performances. In exchange for a donation, we can offer:
Your business (or personal) ad in our performance program reaching 500+ people.
To display or hand out flyers at our fundraisers or other company events
E-mail marketing to our mailing list that reaches over 1000 people (Please note: we do NOT sell or distribute personal information of our mailing list members, but can include information about your company in our newsletters and announcements.)
Link to your business on our website
How OnStage gives back:
Offers the most affordable and comprehensive performance program for adult dancers in the Boston area
Offers a creative outlet for avocational dancers and emerging choreographers.
Provides opportunities for dancers of all experience levels and backgrounds.
Engages the local community in drop-in classes and workshops.
Supports emerging choreographers through our Residency Program.
Produces dozens of annual special events and showcases for our community.
Monetary Donation through PayPal or Venmo

Every little bit helps! As a thank you for your generous donation, your name and/or business will be printed in our performance program under our list of donors. In the special instructions box, please type your name as you would like it to appear in our program or "Anonymous" if you prefer to not be mentioned.
Thank you for supporting OnStage Dance Company!
*Donations are not tax-deductible.